About Us
Panda Soft was created as a premium, eco friendly, plastic free, toilet roll product.
Luxury Bamboo Toilet Paper
The "Panda Soft" Brand & "Panda Logo" are trademarked products of Galleon Supplies Ltd. 
Galleon Supplies Ltd is a 50 Year old, family owned, independent hygiene supply business based in Coventry, England. Having now been operational for half a century, we have a wealth of experience in the hygiene industry. We have always sought to provide innovative and forward thinking products at highly competitive prices. With our luxury bamboo toilet paper range, we believe we achieved what we set out to do. 
We have continually added to our team over the years, drawing on individual expertise and assessing market trends to drive our business forward. Panda Soft, and our luxury bamboo toilet paper range, was a collective effort to provide a premium eco friendly, plastic free toilet roll to the consumer market. 
We observed environmentally friendly toilet paper on the market historically, but the price to quality ratio, we thought, was way off. Our luxury bamboo toilet paper is priced to be more in reach of supermarket brands. This way, everyone has access to an eco friendly toilet paper alternative and can do their bit for the planet.
FSC Accreditation
Panda Soft has its own FSC Accreditation. Assuring sustainability and traceability from start to finish.
We own our own offices, warehousing and distribution and supplying over 20,000 business and home users in the UK.
Does your current bamboo toilet roll supplier have this? To explore our fantastic range of bamboo toilet roll, click the link below.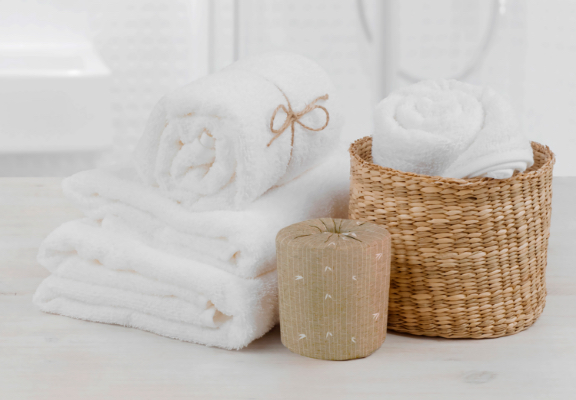 Full Size Roll with Panda Embossing
Bamboo Paper

Bamboo is the world's fastest growing plant. Growing up to one metre a day it produces a large crop which can be harvested every year making it a very sustainable resource.

Naturally Grown

The bamboo used in Panda Soft is grown without the use of fertilisers or pesticides helping to reduce our impact on the environment.

Waste Reducing Packaging

Panda Soft packaging is plastic free, reusable and 100% recyclable.

Skin Sensitive

The long, smooth fibres within bamboo give our toilet tissue a silky texture. It creates less dust particles, known to irritate sensitive skin, making it natural hypoallergenic.