About Panda Soft
Panda Soft was created as a premium, eco friendly, plastic free, toilet roll product.
Luxury Bamboo Toilet Paper
The "Panda Soft" Brand & "Panda Logo" are trademarked products of Galleon Supplies Ltd. 
Galleon Supplies Ltd is a 50 Year old, family owned, independent hygiene supply business based in Coventry, England. Having now been operational for half a century, we have a wealth of experience in the hygiene industry. We have always sought to provide innovative and forward thinking products at highly competitive prices. With our luxury bamboo toilet paper range, we believe we achieved what we set out to do. 
We have continually added to our team over the years, drawing on individual expertise and assessing market trends to drive our business forward. Panda Soft, and our luxury bamboo toilet paper range, was a collective effort to provide a premium eco friendly, plastic free toilet roll to the consumer market. 
We observed environmentally friendly toilet paper on the market historically, but the price to quality ratio, we thought, was way off. Our luxury bamboo toilet paper is priced to be more in reach of supermarket brands. This way, everyone has access to an eco friendly toilet paper alternative and can do their bit for the planet.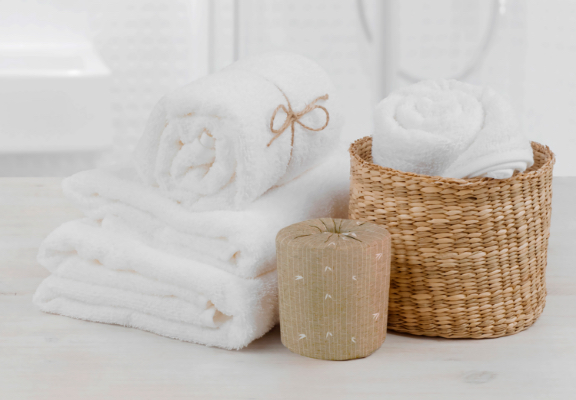 Individually Wrapped For Poshness
Bamboo Paper

Bamboo is the world's fastest growing plant. Growing up to one metre a day it produces a large crop which can be harvested every year making it a very sustainable resource.

Naturally Grown

The Bamboo used in Panda Soft is grown without the use of fertilisers or pesticides helping to reduce our impact on the environment.

Waste Reducing Packaging

Panda Soft packaging is plastic free, reusable and 100% recyclable.

Skin Sensitive

The long, smooth fibres within Bamboo give our toilet tissue a silky texture. It creates less dust particles, known to irritate sensitive skin, king it natural hypoallergenic.
FSC Accreditation
Panda Soft has its own FSC Accreditation. Assuring sustainability and traceability from start to finish.
We own our own offices, warehousing and distribution and supplying over 20,000 business and home users in the UK.
Does your current bamboo toilet roll supplier have this?
Regular FAQs
Is bamboo toilet paper better? –

In short, bamboo toilet paper certainly is better than other toilet paper alternatives. In order to make virgin toilet paper, trees need to be sacrificed. Not only this, but the production process relies heavily on chemicals and bleaches. Although recycled paper has attempted to combat this, it is not as soft or functional as bamboo toilet paper.

Is bamboo toilet paper flushable? –

Yes, bamboo toilet paper is flushable. In fact, water breaks down bamboo toilet paper with incredible ease. The soft fibres in bamboo toilet paper means it is highly unlikely to clog your drains, which is often a problem with regular toilet paper.  Additionally, bamboo toilet paper is 100% biodegradable. 

Is bamboo toilet paper more sustainable? –

Bamboo toilet paper is far more sustainable than other options on the market, and thus is great for the environment. Bamboo toilet is made from, you guessed it, bamboo. This is one of the most sustainable materials on earth, and needs very little to grow rapidly. 

Is bamboo toilet paper good for sensitive skin? –

Bamboo toilet paper may be a great alternative for people with sensitive skin. Our

luxury bamboo toilet paper

has long, smooth fibres that trap less dust particles. This makes it perfect for people with sensitive skin. The problem with a great deal of recycled toilet paper is that manufacturers create a product that is rough and unkind to skin. Our

luxury bamboo toilet

is soft, and made with the user's comfort in mind. 

What is FSC and why is it important? –

The FSC is an international organisation that promotes responsible management of the world's forests. The FSC, over the years, has developed a certification system that allows consumers to know if products that are made using forest products have been sourced responsibly. Here at Panda Soft, we have full FSC accreditation.  

How do you make bamboo toilet paper? –

The process for making bamboo toilet paper is far simpler and less damaging than traditional toilet paper. The bamboo fibers are added to a mixture which forms a bamboo pulp. A process of soaking and pressing then takes place which turns the pulp into paper. After that, the paper is dried until the right moisture level is achieved. The process is more refined, and relies less on less water and fewer chemicals.