Interesting Panda Bear Facts You Might Not Have Known
There are plenty of unknown panda bear facts, as these creatures are fascinating. In the UK, our only real exposure to these creatures is at the zoo behind an enclosure. In fact, here in the UK there are only two pandas and they are kept at Edinburgh zoo.
Besides our limited exposure in zoos, we may understand very little about pandas and their habits. Today we at Panda Soft have prepared a list of interesting panda bear facts. We are going to provide an insight into these phenomenal creatures and, hopefully, greaten our readers' appreciation for them.  
Panda Bear Facts: 9 Of The Most Interesting Facts About Panda Bears
The panda bear is a species of bear that is found in the mountains of central and western China. These rare creatures are amongst some of the most famous animals in the world, and are easily identifiable due to their distinct black and white fur. It is estimated that there are around 1,864 left in the wild, and this number may continue to fall as deforestation and development grows. Without further ado, here is our list of fun facts about panda bears.
1. Pandas Do Not Hibernate
Bears hibernate during winter. This allows them to not over exert themselves and conserve energy when food is scarce. Panda bears, on the other hand, do not enter a period of hibernation during the winter months. These creatures are known to be resistant to wintery conditions, and opt to take refuge in hollow trees.
2. Pandas Love Bamboo
In the wild, bamboo is easy for pandas to obtain and is readily available. Due to the little nutritional value of bamboo, panda bears have to eat an astonishing amount to meet their dietary needs (26-83 lbs everyday).
3. They Reside In One Area
Interestingly, pandas are native to China. If not in enclosures or zoos, they are not found anywhere else in the world. In addition to that, they inhabit the remote mountainous regions in central China. In this area of China you will find cool and wet bamboo forests: the perfect home for these unique creatures.
4. They Have a Pseudo-Thumb
Our fun facts about panda bears list would not be complete without including this fact! In order to grip their food, panda bears have an enlarged wrist bone that acts as an opposable thumb. Without this, it would take them significantly longer to source their food. Their thumb speeds this process up, and thus allows them to fulfil their energy needs.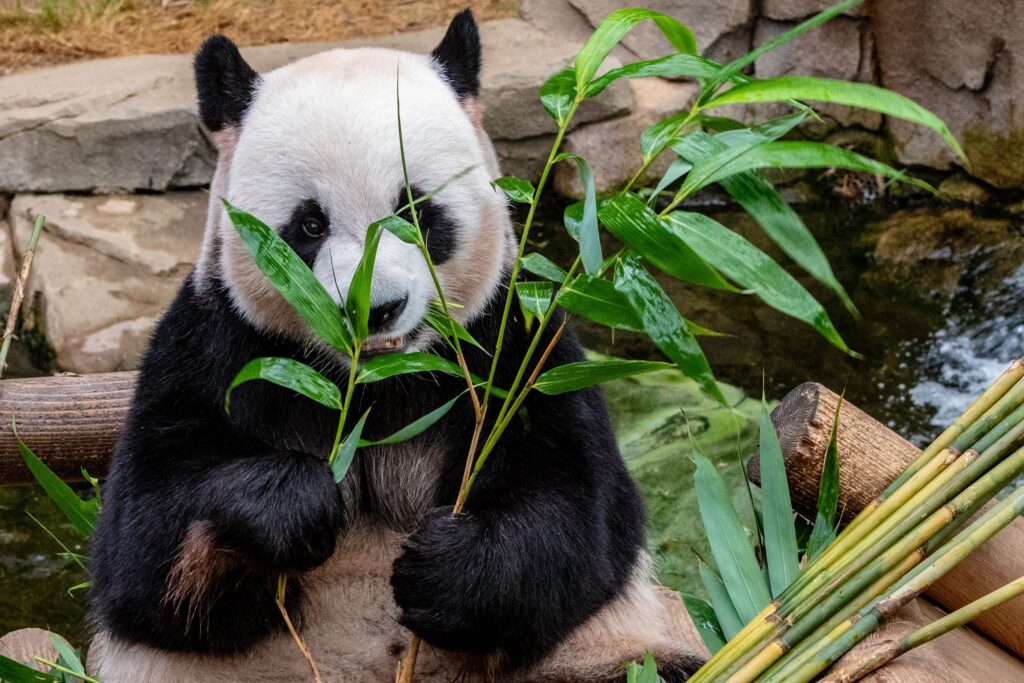 5. They Are Solitary Animals
Unlike a lot of animals, pandas are known for being independent creatures. In fact, for most of their life pandas avoid contact with other members of their tribe. Of course in crucial stages (mating) they seek out companionship, but for the most part opt to live a solitary lifestyle.
6. Pandas Live Longer In Captivity
In captivity, pandas do not face the environmental threats that they do in the wild. Similarly, in captivity there is easy access to food. For these reasons, pandas that are kept in captivity, on average, live longer. In the wild, pandas tend to live in the region of 15-20 years. In captivity, they can live for as long as 30 years.
7. They Spend a Long Time Eating
Pandas have an seemingly insatiable appetite! On a daily basis, they can spend anywhere from 10-16 hours feeding on bamboo. Due to the lack of nutrients in bamboo, they have to eat a large amount to satisfy their energy requirements. This, of course, takes time. Pandas therefore spend the majority of their day eating, often in a sitting position.
8. They Have a Long Scientific Name
The majority of us know pandas only by their colloquial name: panda. An interesting addition to our fun facts about panda bears list is that they have a rather long scientific name. In the science community, they are known as Ailuropoda Melanoleuca.
9. Pandas Abandon One Cub
In the wild, conditions are tough and resources are often scarce. If a panda gives birth to two cubs, she will choose the strongest cub and abandon the other. Resultantly, the abandoned cub will have to fend for itself. Cubs tend to stay with their mother for 18 months, and then they will set off on their own.
Panda Bear Facts Brought To You By Panda Soft
We hope you enjoyed our article full of interesting panda bear facts. We decided to include the panda bear in our brand image campaign for their love of bamboo. Our toilet paper range, made from bamboo, offers a luxury product crafted from a highly sustainable resource. To view our range, click this link.